It's getting harder for agencies to reach real people
Gathering granular data is crucial for a marketer's success— but it's about to get more difficult. Browser cookies are waning in power, and there are new privacy laws to consider. On January 1st, the California Consumer Protection Act went into effect, and it's designed to enhance privacy rights and consumer protection for residents of California.
Agencies and brands have several responsibilities under CCPA, including:
Providing consumers with transparency on the personal information (PI) they collect and how they use it

Consumers must be able to delete any PI that is currently held by a business

Consumers must be able to request that a business not sell their PI

Consumers who exercise their rights under CCPA must be treated equally in terms of a business's goods and services
Download our privacy pack
How agencies are dealing with emerging laws like CCPA
During our webinar, "Adapt or Die: How the modern agency flourishes," we asked industry expert Oleg Kornfeld how modern agencies are dealing with a shifting privacy landscape. In short: they're finding the right partner. Watch the video for more.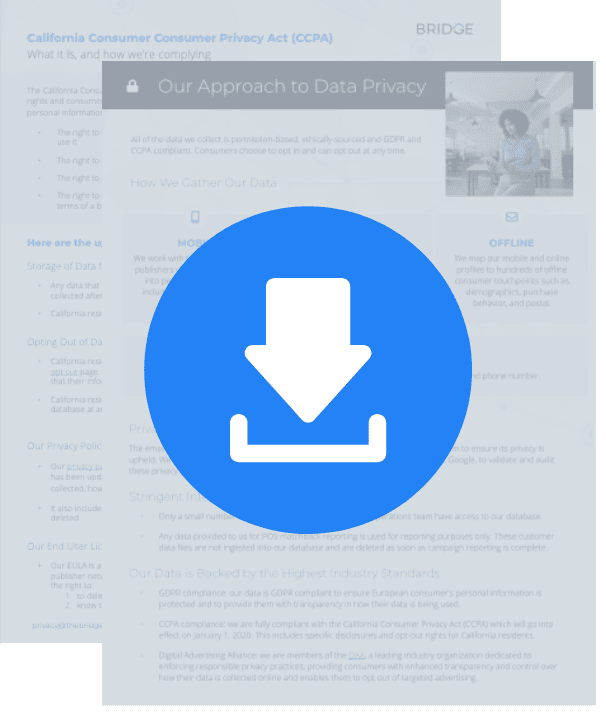 The key for agencies to harness the power of data — and protect themselves from risk — is finding the right partner
Download our BRIDGE Privacy Pack for agencies. It outlines our strategy for privacy compliance, as well as the specific steps taken for compliance with the California Consumer Protection Act.