Leveraging our data and technology in digital ad space.
Our targeted display solution allows you to be where your consumers are. We help you reach the right people through different media channels, on both desktop and mobile platforms. Our experienced digital advertising team helps you identify your audience, create your ads, and place them in relevant digital spaces.
We work closely with our clients to understand their goals and to formulate recommendations for creative design, audience targeting and testing tactics.
Our experienced account managers are an extension of your team. We help to ensure and maximize the success of each campaign with seamless execution.
Our team provides transparent campaign reporting that offers deep insight into performance and audience response activity to continuously optimize your campaigns.
Reaching the right audience
We built our audience targeting tools to make sure your message is reaching the right consumer wherever they are engaging media. Targeted ads are placed in audience specific websites, games, mobile apps and more.
Our targeting attributes range from simple filters based on a user's device, to pinpoint hyperlocal geo-targeting, to building an audience based on a client's conversion data.
Demographic: Target an audience based on age, gender, education, income, etc.
Predictive-match: Build your audience through look-alike modeling.
Behavioral: Reach/target an audience based on their online engagement.
Contextual: Capture an audience based on specific categories, keywords, and interests.
Retargeting: Leverage display and email retargeting to reinforce your message.
Geo-targeting: Target an audience based on location data.
Talk to your consumers through different media channels.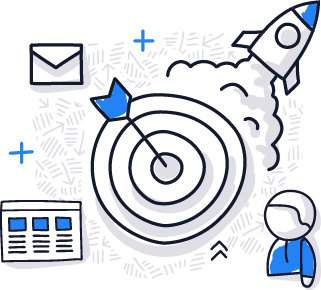 Retargeting makes sense, and it works!
Display retargeting is a powerful way to match the right people, with the right message, at the right time. Retargeted ads remind customers of your products and services, increases brand recognition and can move a prospect through the Buyer's Journey.
Engaging an audience who has already expressed interest in your business, through multiple marketing screens, is one of the best ways to turn prospects into customers.
Want to learn more?
Bridge is a company based on strong partnerships in order to provide the best-in-class marketing and data solutions for our clients. If you're interested in learning more about how we can work together, our account management team is ready to answer any questions.
Let's Connect