[vc_row type="in_container" scene_position="center" text_color="dark" text_align="left" overlay_strength="0.3″][vc_column column_padding="no-extra-padding" column_padding_position="all" background_color_opacity="1″ background_hover_color_opacity="1″ width="1/1″][vc_column_text]
So, What is People-Based Marketing?
For years, marketers relied heavily on mass campaign distribution. With thousands of potential customers, it was extremely difficult to know whether or not the campaigns were distributing accurately.
Through the new people-based marketing approach to advertising, marketers are able to better understand their customers and bring an optimal reach to every campaign. People-based marketing gives a deeper and clearer insight into how to reach your target consumer.
By deterministically matching a mobile device ID to a specified human being, marketers can produce accurate and relevant campaigns, completely tailored to the consumers' preferences. Utilizing people-based marketing will give your company the power to personalize every future campaign, ensuring rapid growth and success.
How It Works
The foundational elements of people-based marketing necessary to build an accurate and relevant marketing campaign include:
offline data,
online data, and
mobile data.
Offline data
Offline data encompasses the segmentation of individuals based on demographic, geographic, and psychographic traits. Each time a customer makes an in-store purchase and provides their email, marketers are better able to identify who that customer is.
Consumers can be segmented based on a variety of specifications, such as gender, geographic location, income level, and lifestyle tendencies. Doing so creates the prime target audience that marketers are looking to reach.
Pairing this information with online data is essential to enhancing your marketing campaign.
Online Data
Through a Demand-Side Platform (DSP), marketers can have access to a plethora of online information about each of their target customers. The online engagement of consumers is rapidly increasing, every time they shop, surf the web, or check their email.
By monitoring this usage, you will be able to successfully determine where and how your consumers prefer to engage with media. Online data, extracted through a DSP, opens up a whole new platform of understanding your customers.
Mobile Data
Along with the increase of an online presence, mobile engagement is at an ultimate high. People are spending an average of 4.7 hours daily on their mobile devices to surf the web, shop online or download thousands of different apps.
By identifying which mobile device is tied to each user through SDK analytics, your marketing campaign can become even more relevant and accurate. After collecting both offline and online data about your consumers, identifying their mobile engagement is the last step in completing your people-based marketing analytics.
Mobile device recognition has the ability to pinpoint each of your target consumers and match their specific mobile device ID with the data collected through both offline and online outlets.
This way, we know that each of the people we are targeting and profiling is a real, verified user with a strong mobile presence.
How It's Useful
Once you've collected this mass amount of consumer data, you are able to create rich user profiles for your target audience. With the implementation of people-based marketing, your campaign can run much more smoothly with far more accuracy than you've ever seen before.
People-based marketing enables marketers to create a customized audience with the exact consumers they are looking to target. After identifying and verifying each user, you can be certain to gear your marketing campaign where consumers are most likely to engage.
Users are no longer an indecipherable array of data points but rather each user profile is tied to an actual human entity. Each consumer's rich profile is attached to his or her information with defined characteristics, interests and preferences. Garnering all of this knowledge is extremely valuable to marketers when distributing a campaign.
With people-based marketing, marketers gain valuable insights into each individual consumers, including the online and mobile behaviors of each consumer. Utilizing people-based marketing enhances distribution strategy because marketers can reach target audiences where they are consuming the majority of their information.
Each consumer is a unique human entity, encompassing a variety of characteristics. People-based marketing methods understand this. That is why each campaign is comprised of unique media plans tailored to every verified consumer. Put people at the heart of all of your marketing initiatives by delivering campaigns where, when, and how they prefer to receive it.
Looking Forward
Possibly the most innovative aspect of this people-based marketing is its ability to continually enhance future campaigns.
By implementing people-based marketing into every campaign, companies will develop a multitude of reports that detail how the consumer reacted to or engaged with the campaign. A company's strategies and skills can continue to enhance and develop through the analysis of people-based marketing efforts.
People-based marketing is the most revolutionized way to target and distribute marketing campaigns. With the implementation of this new tactic, all future marketing initiatives will be accurate and relevant, more effectively understanding and reaching consumers.
As a company, we understood the importance of staying up to date with the latest technological trends. As online presence becomes a greater asset, we made great strides in encompassing the most streamline trends the digital marketing realm.
People-based marketing is our newest and most accurate means of marketing. With people-based marketing, we uphold our commitment to providing relevant and accurate data, distributed through customized campaigns for each consumer.
[/vc_column_text][/vc_column][/vc_row][vc_row type="in_container" scene_position="center" text_color="dark" text_align="left" class="blog-fancy-cta" overlay_strength="0.3″][vc_column column_padding="no-extra-padding" column_padding_position="all" background_color_opacity="1″ background_hover_color_opacity="1″ width="1/1″][fancy_box image_url="8190″ color="Extra-Color-1″ link_text="Download Now" link_url="http://www.thebridgecorp.com/people-based-marketing-ebook/"][two_thirds]
New to People-Based Marketing?
Learn more about implementing a people-based marketing strategy with our in-depth guide.[/two_thirds]
[one_third_last]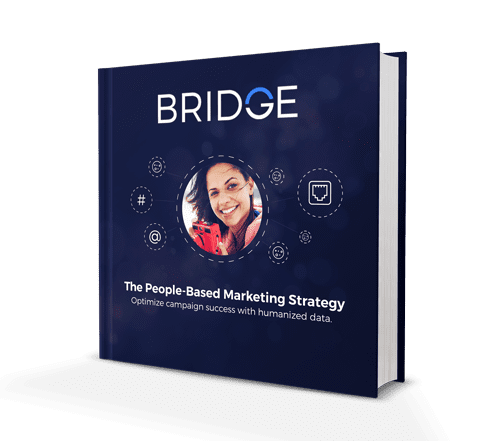 [/one_third_last][/fancy_box][/vc_column][/vc_row][vc_row type="in_container" scene_position="center" text_color="dark" text_align="left" overlay_strength="0.3″][vc_column column_padding="no-extra-padding" column_padding_position="all" background_color_opacity="1″ background_hover_color_opacity="1″ width="1/1″][vc_raw_js]JTNDc2NyaXB0JTIwdHlwZSUzRCUyMnRleHQlMkZqYXZhc2NyaXB0JTIyJTNFJTBBJTBBd2luZG93Lm9uYmx1ciUyMCUzRCUyMGZ1bmN0aW9uJTIwJTI4JTI5JTIwJTdCJTBBJTIwZG9jdW1lbnQuX3RpdGxlJTIwJTNEJTIwZG9jdW1lbnQudGl0bGUlM0IlMEElMjBkb2N1bWVudC50aXRsZSUyMCUzRCUyMCUyMkRvbiUyN3QlMjBmb3JnZXQlMjB0byUyMHJlYWQlMjB0aGlzLi4uJTIyJTNCJTBBJTBBJTIwJTdEJTBBJTBBd2luZG93Lm9uZm9jdXMlMjAlM0QlMjBmdW5jdGlvbiUyMCUyOCUyOSUyMCU3QiUwQSUyMGRvY3VtZW50LnRpdGxlJTIwJTNEJTIwZG9jdW1lbnQuX3RpdGxlJTNCJTBBJTBBJTBBJTIwJTdEJTNDJTJGc2NyaXB0JTNF[/vc_raw_js][/vc_column][/vc_row]