Leveraging a custom audience is an effective marketing method that focuses and personalizes your marketing tactics. Unlike vague billboards and telemarketing calls, personalization offers a unique and precise way to reach your custom audience.
Mass Marketing Isn't the Name of the Game
It's no secret that the marketing landscape has changed with the rapid advancement of technology. Between the growth of high-speed computers, internet access on mobile devices, and even internet access on TV's, consumers can no longer pass as incognito. The days of mass marketing are coming to an end.
Sending emails and advertisements to every and any internet user is imprecise and ineffective. Sure, the offer reaches large amounts of people, but how many of those people actually have interests that align with the offer?
Traditional marketing only works well when it has a highly targeted message and a unique selling proposition. This also applies to targeted digital marketing, since it also needs a specific message and a unique offer.
But, the main difference between the two is that mass marketing hits thousands of random individuals, whereas targeted digital marketing hits specific users.
So, who are these specific users? They are strategically segmented individuals that are selected and grouped together to form a custom audience.
What is a Custom Audience?
A custom audience is an audience comprised of user profiles whose information aligns with a company's target audience. This audience includes specific users who receive customized email, desktop, mobile, and social advertising campaigns.
Let's consider an example. Suppose I'm an up-and-coming running shoe brand looking to break the barriers of new markets and I want to create a campaign around my newest shoe model.
First, I would consider who my target customer is. I would ask myself questions about my target customers, such as, "How old are they? What's their average income? What life stage are they in?"
Once I've understood the characteristics of my target customer, I can begin to segment them by specific demographics, lifestyle, and interests to build a custom audience.
My brand's custom audience would be comprised of individuals who are interested in shoes, have an income of $40,000 per year, and have recently been browsing online for new shoes.
With a custom audience, not only will I reach my exact and ideal target customer, but I'll also reach customers who are truly interested in my brand.
A huge benefit of this is that there's less guessing and more knowing. I know exactly who I want to reach and exactly to whom I'm sending my campaign.
Since I have now built a custom audience, I can think about the best way to engage with them.
How to Engage Your Custom Audience
Personalization, a people-based marketing method, is an individualized marketing method where companies deliver personalized advertisements to drive customer engagement.
This method allows companies to prioritize the people behind the screen and market to real people – not anonymized pieces of data.
94% of senior-level executives believe that personalization is essential to reaching target customers. Next to professional custom audience solutions, this is the most effective way to reach your target with a targeted message.
How does this help you engage your custom audience? Personalization will help you land relevant advertisements directly in the hands of your target audience so the ad links directly to their current needs.
Your custom audience will feel like the ads they see are actually helpful, genuine offers that can contribute to their lives. Personalization will help your ads fit seamlessly into the lives of those it seeks to benefit.
During a time where consumers are as sharp and as specific as ever, your ads should be, too. It's not just sending a message to the right people– it's sending a message for them, to them.
[vc_row type="in_container" scene_position="center" text_color="dark" text_align="left" class="blog-fancy-cta" overlay_strength="0.3″][vc_column column_padding="no-extra-padding" column_padding_position="all" background_color_opacity="1″ background_hover_color_opacity="1″ width="1/1″][fancy_box image_url="8190″ color="Extra-Color-1″ link_text="Download Now" link_url="http://www.thebridgecorp.com/people-based-marketing-ebook/"][two_thirds]
New to People-Based Marketing?
Learn more about implementing a people-based marketing strategy with our in-depth guide.[/two_thirds]
[one_third_last]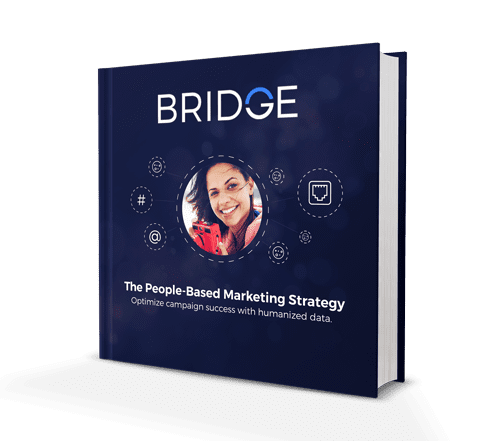 [/one_third_last][/fancy_box][/vc_column][/vc_row][vc_row type="in_container" scene_position="center" text_color="dark" text_align="left" overlay_strength="0.3″][vc_column column_padding="no-extra-padding" column_padding_position="all" background_color_opacity="1″ background_hover_color_opacity="1″ width="1/1″][vc_raw_js]JTNDc2NyaXB0JTIwdHlwZSUzRCUyMnRleHQlMkZqYXZhc2NyaXB0JTIyJTNFJTBBJTBBd2luZG93Lm9uYmx1ciUyMCUzRCUyMGZ1bmN0aW9uJTIwJTI4JTI5JTIwJTdCJTBBJTIwZG9jdW1lbnQuX3RpdGxlJTIwJTNEJTIwZG9jdW1lbnQudGl0bGUlM0IlMEElMjBkb2N1bWVudC50aXRsZSUyMCUzRCUyMCUyMkRvbiUyN3QlMjBmb3JnZXQlMjB0byUyMHJlYWQlMjB0aGlzLi4uJTIyJTNCJTBBJTBBJTIwJTdEJTBBJTBBd2luZG93Lm9uZm9jdXMlMjAlM0QlMjBmdW5jdGlvbiUyMCUyOCUyOSUyMCU3QiUwQSUyMGRvY3VtZW50LnRpdGxlJTIwJTNEJTIwZG9jdW1lbnQuX3RpdGxlJTNCJTBBJTBBJTBBJTIwJTdEJTNDJTJGc2NyaXB0JTNF[/vc_raw_js][/vc_column][/vc_row]